We free you from your lipedema!
We free you from your lipedema!
med-plast your lipedema clinic in Berlin
Why do patients from all over the world trust us? With over 1,000 lipedema operations per year, we have a great deal of experience. Our highly specialized lipedema clinic in the heart of Berlin was founded and designed by Dr. med. Frank Labschies specifically for the best possible inpatient treatment of lipedema patients. The med-plast clinic's license as a private hospital guarantees you the necessary high level of safety, medical equipment, and staffing. You can expect the best possible treatment from us in a professional and familiar atmosphere. At the same time, we never stop getting better and better!
Around the clock – for your quality of life.
For your new quality of life
With the gentlest technique, many years of experience and knowledge of your individuality, we treat your lipedema holistically. We remove the painful and excess lipedema fat from all areas where it bothers you. Thoroughly and sustainably.
After your lipedema operation you will have better mobility immediately.
If necessary, we tighten your excess skin. We use the latest technology such as ultrasound, laser, plasma or plastic surgery skin removal.
As experienced plastic surgeons, we know how to achieve your best possible physical appearance. Harmony and seamless transitions are the key to your new body shape. Trust us – we do nothing else.
Move the slider (before/after):
After three surgeries: back, front and arms, each with laser. Good body shape.
First surgery lower leg 360 degrees circular, second surgery thigh. Beautiful aesthetics.
It all starts with the diagnosis of lipedema. We know our stuff. Trust us – we do nothing else!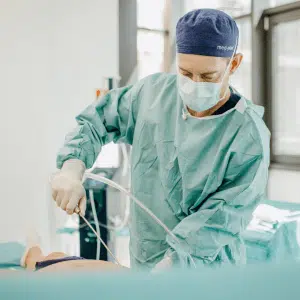 With us you will find maximum specialization. For your safe surgeries with the best possible results.
As plastic surgeons, we remove any excess skin. For a harmonious body image.
We support you with MLD, sonography, flat-knit supply, laboratory, and nutritional advice.
This is what our patients have to say
Is your conservative therapy also unsuccessful until now?
We'll be happy to advise you
Comprehensive, non-binding and individual.
Further experiences with med-plast
"med-plast Berlin was the best decision of my life! I am so incredibly grateful for the entire team and especially Dr. Masumbuku.
I have undergone five liposuctions with you and I am incredibly satisfied. I had no
idea what quality of life these operations would give me back. I have hardly any pain now and we don't need to talk about the visual result. It is unbelievable! I would never have expected such a result. Expectations more than exceeded! […]"
"The very best clinic there is!
I would have the operation there again and again. You are finally taken seriously and are not just another patient. Every fate is seen. The entire staff is incredibly friendly and caring!
The doctors are all very competent and experienced. They all know exactly what they are doing! You notice that immediately and even if the day is exhausting, no one loses their smile and good mood. Everyone tries to make this difficult path as easy as possible and is always open to your worries and needs. After four operations, I am more than satisfied with the result, my expectations were even exceeded. I owe my new life to Med-Plast! Pain-free and with new self-esteem, it is now up to me to do everything I can to ensure that my body recovers well. Healthy eating and exercise are a must and help incredibly in the healing process. But without the great work of Med-Plast, none of this would be possible. I am incredibly grateful from the bottom of my heart !!!"
"I can really recommend med-plast without reservation. Both the surgeons and the nurses know exactly how to do it and what is important. The best possible results are achieved with a high degree of competence and empathy,
whereby nothing is glossed over in advance and realistic goals are discussed together during the consultation.
So far, I have felt very well looked after – both professionally and personally.
I am already looking forward to my next operation at med-plast :-)"
Worth, interesting and current information: